Automated testing plays an essential role in the development of quality software, helping to ensure the stability, performance and reliability of websites and applications.
In a recent article, we reviewed the Katalon, Leapwork and Tricentis test solutions.
In this article, we'll compare other popular automated testing platforms: Mr SuricateAgilitest, and Cerberus Testing.
Each of these platforms offers unique features to facilitate the testing process. Let's take a closer look.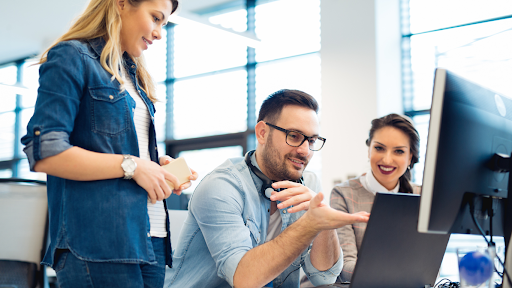 Mr Suricate - French leader in no-code automated testing 
The no-code solution for automated cross-browser & cross-device testing from Mr Suricate no-code solution lets you easily test applications and websites across different browsers, operating systems and mobile platforms.
It stands out for its ease of use, with an intuitive interface that makes it accessible even to testers with little or no coding experience. 
The platform enables anyone to create automated functional test scripts, run them on different browsers, and analyze the detailed results.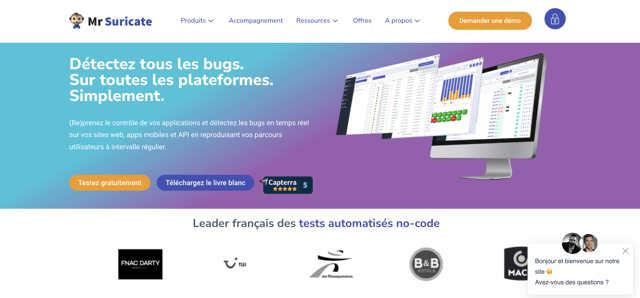 Key benefits of Mr Suricate
✅
Intuitive UX
Test script creation and execution can be easily carried out thanks to a user interface designed to open up the world of automated testing to everyone.
✅ Rapid test creation
Thanks to its template-based approach, you can save time when creating tests.
✅ Cross-platform performance
Mr Suricate supports test execution on different browsers and devices.
✅ Customizable dashboard and advanced warning system
Users can create customized dashboards using widgets specific to their needs. 
Thanks to the alert system, testers are immediately informed when a test fails, exceeds a predefined threshold or when undesirable behavior is detected.
✅ An all-in-one solution (Web, mobile app, API, Accessibility, SEO...)
Thanks to these extensive testing capabilities, Mr Suricate offers complete and accurate coverage, enabling the detection of potential problems in all key aspects of the application.
✅ Proprietary technology with reversibility plan available (Selenium, Playwright)
This combination allows users to benefit from the advantages of proprietary technology, while offering the possibility of leveraging popular frameworks for greater flexibility.
✅ Dedicated customer success manager + live chat support 
Mr Suricate offers personalized support and assistance from A-Z in using the platform.
✅ Fixed price
A fixed price every month guarantees transparency and predictability of costs.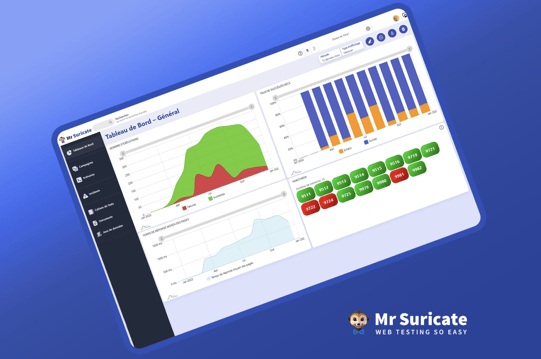 The disadvantages of Mr Suricate
❌ Customization limitations
Although Mr Suricate offers a simplified approach to test creation, this may limit the customization of highly advanced test scenarios for more experienced testers looking for additional functionality. 
❌ Only web tests are supported
Mr Suricate allows you to carry out exhaustive tests on web applications, but other aspects of the system are not taken into account.
For example, tests related to network infrastructure or applications not accessible via the web are not taken into account. 
However, a VPN gateway is an alternative solution for getting around this limitation.
Agilitest - A robust open source platform
Agilitest is an open-source, no-code testing tool that positions itself as a powerful and versatile automated functional testing platform.
It offers a wide range of functions, from test script creation to test environment management.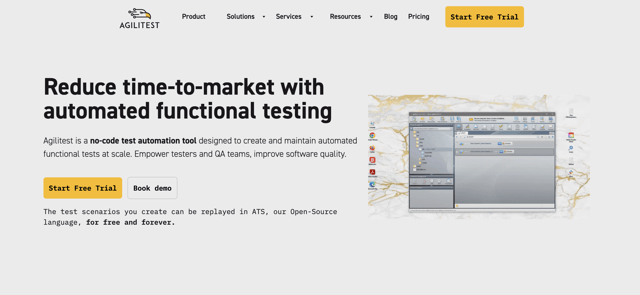 The benefits of Agilitest
✅ Wide range of functions
Agilitest offers a wide range of features including test script creation, test data management, user interaction simulation, end-to-end testing and detailed reporting.
✅ Open source scripts
Agilitest scripts are open source and can be replayed free of charge.
✅ Capture system
Test maintenance is reduced to a minimum thanks to their capture system.
✅ Integration with project management tools
Agilitest offers integration with project management and bug tracking tools, facilitating collaboration between different members of the development team.
Disadvantages of Agilitest
❌ Learning curve to understand the many functions
It may have an initial learning curve to master the many features for novice users. 
❌ Datalayers, accessibility, SEO and visual tests are not supported
In the absence of support for these features, other tools are needed to ensure that these impactful details are optimized.
❌ No warning system
There may be a delay between the tests being carried out and awareness of the problems. 
❌ Proprietary technology
It can be difficult to integrate third-party components or tools, which limits the scope for extending or customizing the solution.
❌ Price depends on server usage
This dependence on server usage can lead to uncertainty in terms of costs.
Cerebrus - The performance-oriented solution
Cerberus Testing is an automated testing platform that focuses on test performance and scalability. 
It lets you run load and stress tests to assess application performance under real-life conditions, and offers several advanced features such as virtual test environment management and real-time monitoring of performance metrics.
The benefits of Cerebrus
✅ Advanced performance testing
Cerberus Testing focuses on load and performance testing to evaluate application performance under real-life conditions and identify bottlenecks.
✅ Management of virtual test environments
This makes it possible to create flexible, reproducible test configurations, facilitating testing in controlled, consistent environments.
✅ Real-time monitoring of performance metrics
The platform offers real-time monitoring of key performance metrics, such as response time, latency and server load. 
✅ Detailed reports
The platform generates detailed reports on application performance, any errors and recommendations for improving performance.
The disadvantages of Cerberus
❌ Primary focus on performance testing
If you're looking for a more comprehensive solution for functional or security testing, you'll need to complement Cerberus Testing with other tools or platforms.
❌ Datalayers, accessibility, SEO and visual tests are not supported
As is the case with Agilitest, these aspects need to be tested using other tools.
❌ No recorder
Without this feature, it becomes more difficult to capture and reproduce test actions efficiently.
❌ No warning system
As already mentioned, this can lead to delays in error resolution.
❌ Customer success manager not included (additional cost) 
If Cerberus support exceeds the budget, users may find themselves on their own when it comes to troubleshooting, configuring or optimizing use. 
❌ Additional costs for services
The Cerberus price is fixed, but the accompanying services come with additional charges. 
If you need advanced automated testing features, such as the creation of complex test scripts, you'll need to use other complementary tools.
In conclusion - which one to choose?
With different features and capabilities when comparing Mr Suricate vs Agilitest vs Cerebrus Testing, it's essential to carefully consider project needs and team strengths before making a decision.
Test Mr Suricate | A cross-browser, cross-device automated testing solution
In addition to combining the advantages of other solutions, the great added value of Mr Suricate is to combine its SaaS solution with quality service, enabling a non-IT specialist to become a tester in less than a month. 
With Mr Suricateyou don't need to know how to code or spend a fortune to make sure your users have a smooth and bug-free browsing experience, no matter how they access it!