Trends and challenges of digital transformation in the hospitality sector
Digital transformation has led to major upheavals in a wide range of sectors.umeroussectors, and the hotel and catering industries are no exception.
In an age of ubiquitous connectivity and evolving consumer expectations, companies in this sector need to deftly navigate emerging trends and inherent challenges to thrive in an ever-changing environment.
In this article, we explore the most striking trends and challenges facing the hospitality industry as it embarks on its digital transformation.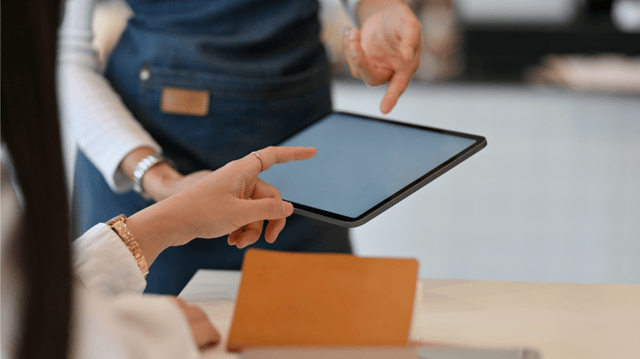 Why is digital transformation important in the hospitality sector?
For the hotel industry, digitalization is particularly important, as consumers are increasingly accustomed to smooth, intuitive digital journeys tailored to their particular preferences when it comes to experiences that are meant to be relaxing moments from A to Z.
What's more, the current staff shortages recognized in the hotel industry can be solved thanks to emerging technologies. According to a 2022 survey, 65% of hoteliers believe that new technologies can solve these shortages and attract stronger talent.
Responding to these new needs is necessary to stay competitive in today's world, and every weakness is spreading at a speed never seen before because of social networks and digital customer reviews.
The modern consumer is more likely to opt for the hotel option that appeals on all levels; firstly from their smartphone, thanks to a professional website, mobile app, well-fed social networks, and once on site, thanks to impeccable customer service using context-sensitive connected devices.
Digital trends in the hotel and restaurant sector
The data-driven customer experience
Digital transformation has paved the way for an enhanced customer experience, going beyond the simple booking of hotel rooms or restaurant tables.
One of the major assets of digital transformation is data collection and analysis, enabling companies to gather valuable information on customer preferences, consumption habits and behaviors.
Intuitive mobile apps give customers access to more relevant information to deliver highly personalized experiences, whether recommending specific dishes based on food preferences or suggesting local activities tailored to customers' interests.
Online ordering and delivery applications 
Digital transformation has reshaped the way restaurants operate.
Many establishments have adopted online ordering and delivery apps to meet the growing demand for takeaways.
Interactive digital menus and QR codes make it easy for customers to view menu choices and place orders contact-free.
This digital transformation has not only improved the operational efficiency of the restaurant business, it has also opened up new possibilities for reaching a wider audience.
Mobile integration
Today's consumers can do virtually everything from their phones, from checking in to ordering room service to unlocking the room door itself.
It's possible to plan an entire trip, from booking to sleeping in, right through to returning home, all from your cell phone.
Using AI and chatbots to offer more personalized and accessible customer service
AI-based applications and technologies enable 24/7 customer service.
For example, customers can use their cell phones to check in and pay the bill independently.
Customers can even access other integrated services via IoT devices such as chatbots, enabling them to open the curtains, set the alarm or order breakfast via voice commands.
Returning to the strategic use of data, these devices can also obtain previously unavailable real-time customer data, such as preferences, routines and habits.
This data can then be used, for example, to personalize the room settings for their next stay.
It's also possible to send messages or advertisements about nearby tourist attractions, local restaurants or transportation options when customers are geographically close to the business based on their preferences, improving customer satisfaction.

Challenges of digital transformation in the hospitality sector
Protection against cyber attacks
Security is a fundamental issue in the digital transformation of all sectors, including the hospitality industry.
Since digital technologies such as AI and IoT are highly connected, they are more prone to hacking. What's more, the extensive connectivity of various devices makes digital networks vulnerable.
For example, problems on a single connected device can damage other connected devices and even the whole network.
Players in these sectors therefore need to be prepared for the security implications of digital transformation.
This can be achieved by adopting highly secure technologies to reduce software vulnerabilities, creating resources to mitigate the risk of cyber-attacks and training employees in prevention.
Respect for user privacy
Confidentiality is another important factor, as highly personalized services rely on the storage and tracking of customer preferences and behavior via digital technologies.
Customers are increasingly aware of their data privacy.
As such, a transparent, strict and clear privacy policy, clarifying what data can be collected and shared, as well as who can own the data, is necessary.
Costs
For small businesses, using digital technologies in their day-to-day operations can require significant initial investment.
It is therefore essential for hotel companies to think about and prioritize the digital technologies that would most benefit their business.
Some simple digital technologies, such as digital menus, can be tested before major investments are made, to ensure that managers and their customers are comfortable with the adoption of a given technology, and with the effort and investment required.
Balance between digital and human experience
In luxury hotels and restaurants, for example, human interaction between customer and staff remains important for some travelers.
However, according to an Oracle study, 60% of French travelers are more likely to stay in a hotel that offers self-service technology limiting contact with staff and other guests.
So it's important for hotel companies to strike a balance between digital experiences and face-to-face interactions.
Key considerations include preserving services that cannot be replaced by digital tools, preserving customer choice between digital and human services to optimize the customer experience, and integrating interactive digital features into the process.
Bug-free digital customer journeys
In such a competitive industry, every interruption in the customer journey has an impact on both sales and brand image in the eyes of customers.
Implementing quality control (QA) testing is becoming an essential practice to prevent any unforeseen problems in systems and guarantee smooth, bug-free user experiences.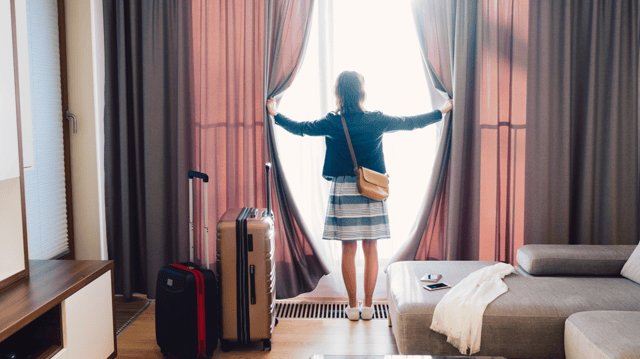 Mr Suricate - QA testing for players in the hospitality sector
To succeed in the digital age as a hospitality business, it's essential to ensure that user journeys meet the demands of modern consumers.
The no-code SaaS solution Mr Suricate solution covers a wide range of automated tests in order to control your testing and provide your users with the best possible experience.
Take control of your applications and detect bugs in real time on your websites, applications and APIs by reproducing your user paths at regular intervals.